Who We Are
The EastShore is

Pittsburgh at its best
Our community is comprised of the neighborhoods of Braddock, North Braddock, Rankin, and Swissvale. We are an area steeped in tradition and bursting with potential. We have strong community associations, vibrant and emerging retail quarters, quick access to the core of the region and miles of riverfront on the Monongahela River. And we are right in the middle of Allegheny County.
Check out more NEWS from the EastShore https://eastshorepgh.com/news-in-the-eastshorepgh/
#VisitEastShore #VisitEastShorePgh #Braddock #NorthBraddock #RankinBorough15104 #Swissvale #LiveWorkPlay #GreatPlaceToLive #EconomicDevelopment #SmallBusiness #SmallBiz #ShopEatPlay #EZCB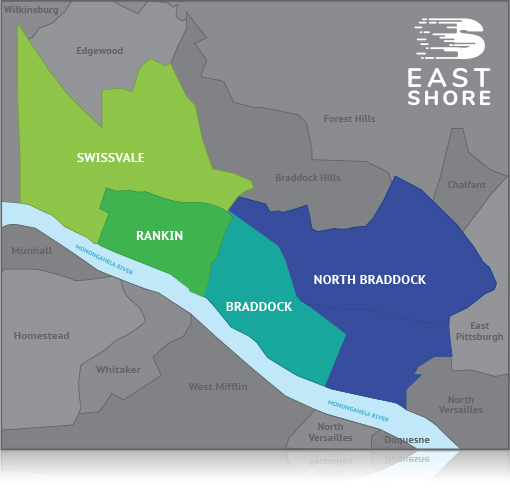 EZCB Board Election 2023
At the EZCB Annual Meeting on February 14, members re-elected Michael Aldrich, David Gumpher and Mary Manges to the Board of Directors.  Also, Chuck Bennett of First Commonwealth Bank was elected to represent a financial institution position on the Board.
Subsequently Board Members elected the following Executive Officers:
William J. Pfoff, President

Michael J. Aldrich, Vice President

Deneen Swartzwelder, Secretary

Michael Tobias, Treasurer
Mr. Pfoff said "We have a good team in place to continue our work in the EastShore communities.  Implementation of the Urban Land Institute Strategic Plan is a top priority along with supporting the exciting redevelopment of the Carrie Furnace site."
EZCB Executive Director Search  
The Enterprise Zone Corp. of Swissvale (EZCB), a non-profit development corporation serving Braddock, North Braddock, Rankin and Swissvale, is seeking to fill an Executive Director position.  Incorporated in 1986, the EZCB has directed economic development activities assisting in over 125 projects, leveraging over $4 million of investment and creating hundreds of jobs.  Information on EZCB activities can found on this website.  In 2022 the EZCB engaged the Urban Land Institute (ULI) to undertake a strategic plan for the area.   
This newly created position will coordinate and direct the organization including the implementation of the EastShore Report.  The Executive Director will report directly to the Board of Directors.
Minimum requirements include a relevant degree from an accredited four (4) year college or university with experience in public administration, community and economic development.
Candidates must submit via e-mail a cover letter with salary requirements, resume and at least three (3) references to EZCB Administrator Charles Starrett at chstarrett@comcast.net. Please – no phone calls.  Applications will be accepted until the position is filled. Annual Salary-$70,000 Plus Fringe Benefits-$17,878 = $87,878. See the NEWS tab for full details.
EZCB Business Loan Program Guidelines
Enterprise Zone Corp of Braddock, serving Braddock, North Braddock, Rankin and Swissvale, offers low-interest loans that stimulate business development and create new jobs.  Projects can include acquiring land and buildings, renovations and infrastructure improvements, purchase of machinery and equipment, and building inventory and working capital.
The number of jobs to be created, especially for local residents, will be a factor in determining the amount of the loan.  Loans can be up to 50% of the total project cost, with a maximum of $100,000.  The loan must be secured with adequate collateral.  The fixed interest rate is 4%.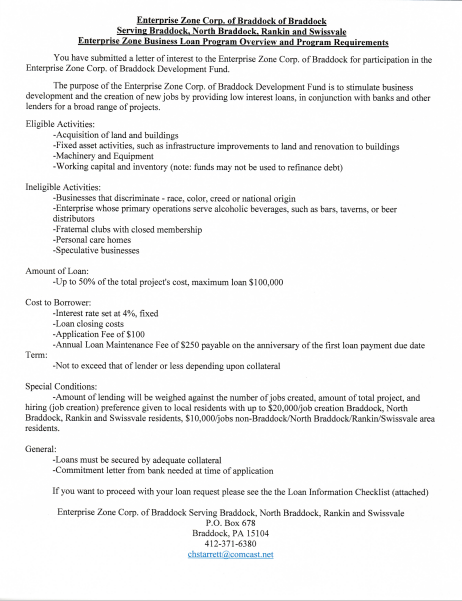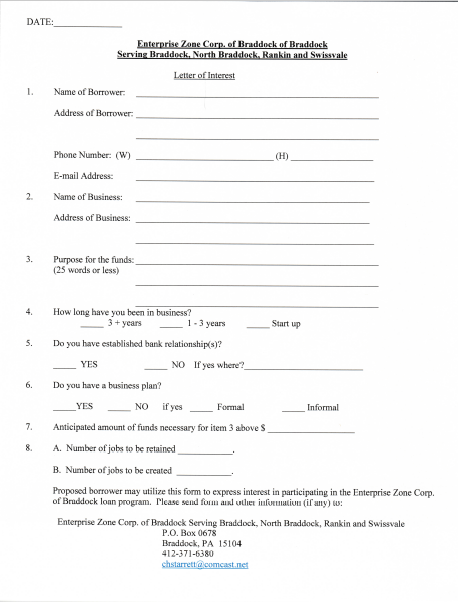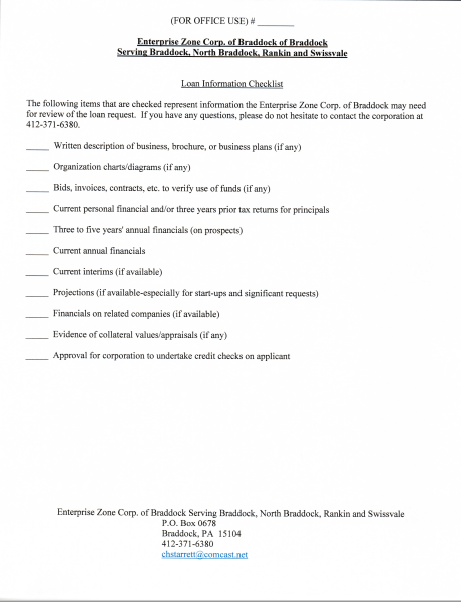 12/6/22 – EZCB Annual Dinner – US Steel Presentation
The members of the Enterprise Zone Corp (of Braddock) representing the 4 communities of the #EastshorePgh came together for their year end dinner on December 6 at Mary's Vine in Rankin. The mayors were in attendace – Cletus Lee of North Braddock Borough, Joelisa McDonald of Rankin, Deneen Swartzwelder of Swissvale and Delia Lenon of Braddock Borough. The evening's speaker was United States Steel Corporation's Kurt Barshick, a Pittsburger, who is the General Manager – North American Flat-Rolled – Mon Valley Works which is made up of the Clairton Plant (coking operation), Edgar Thomson Plant (primary opertions), Irvin Plant (finishing), and Fairless Plant (galvanizing). USS has pledged $1M for the refurbishment of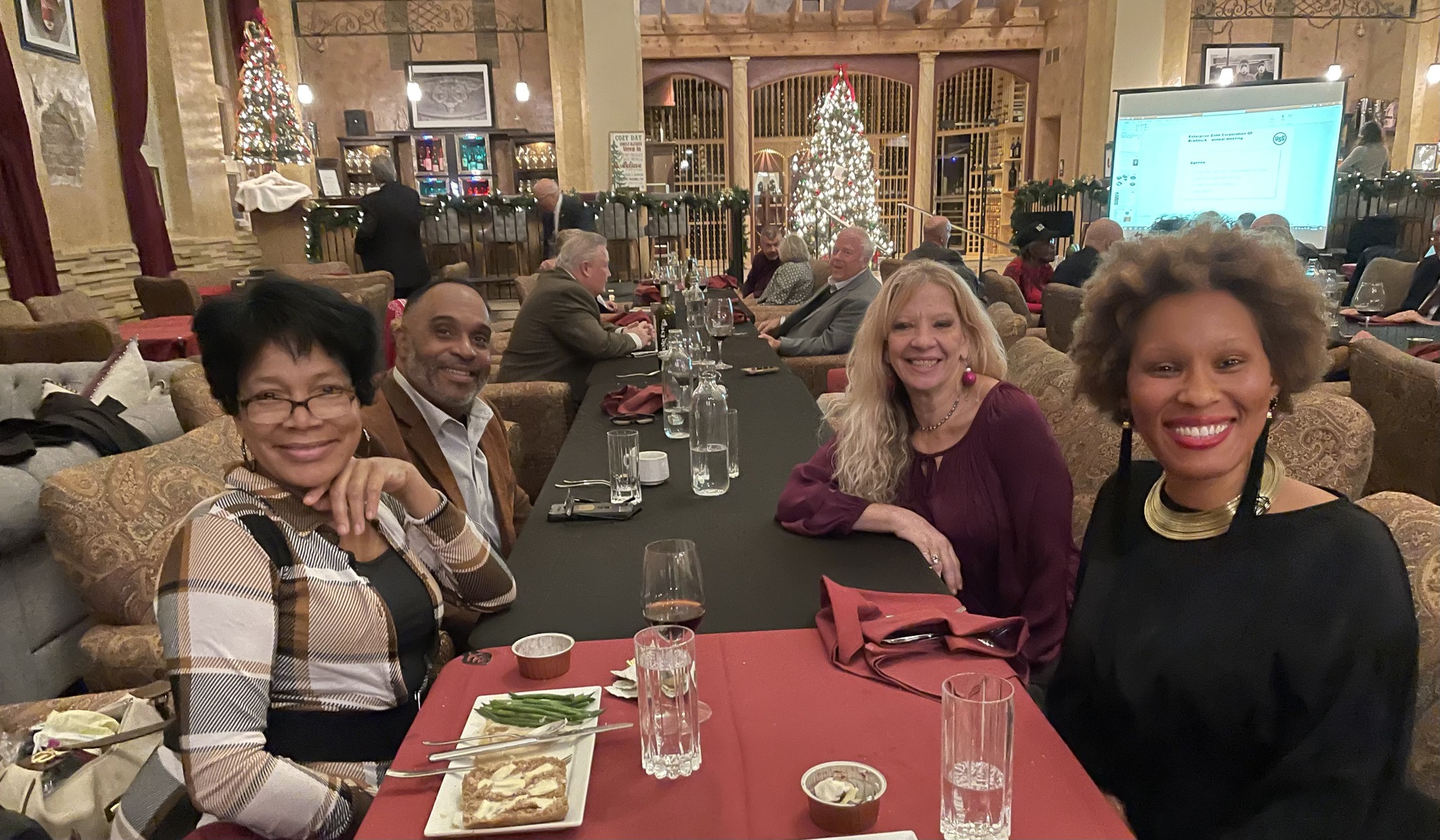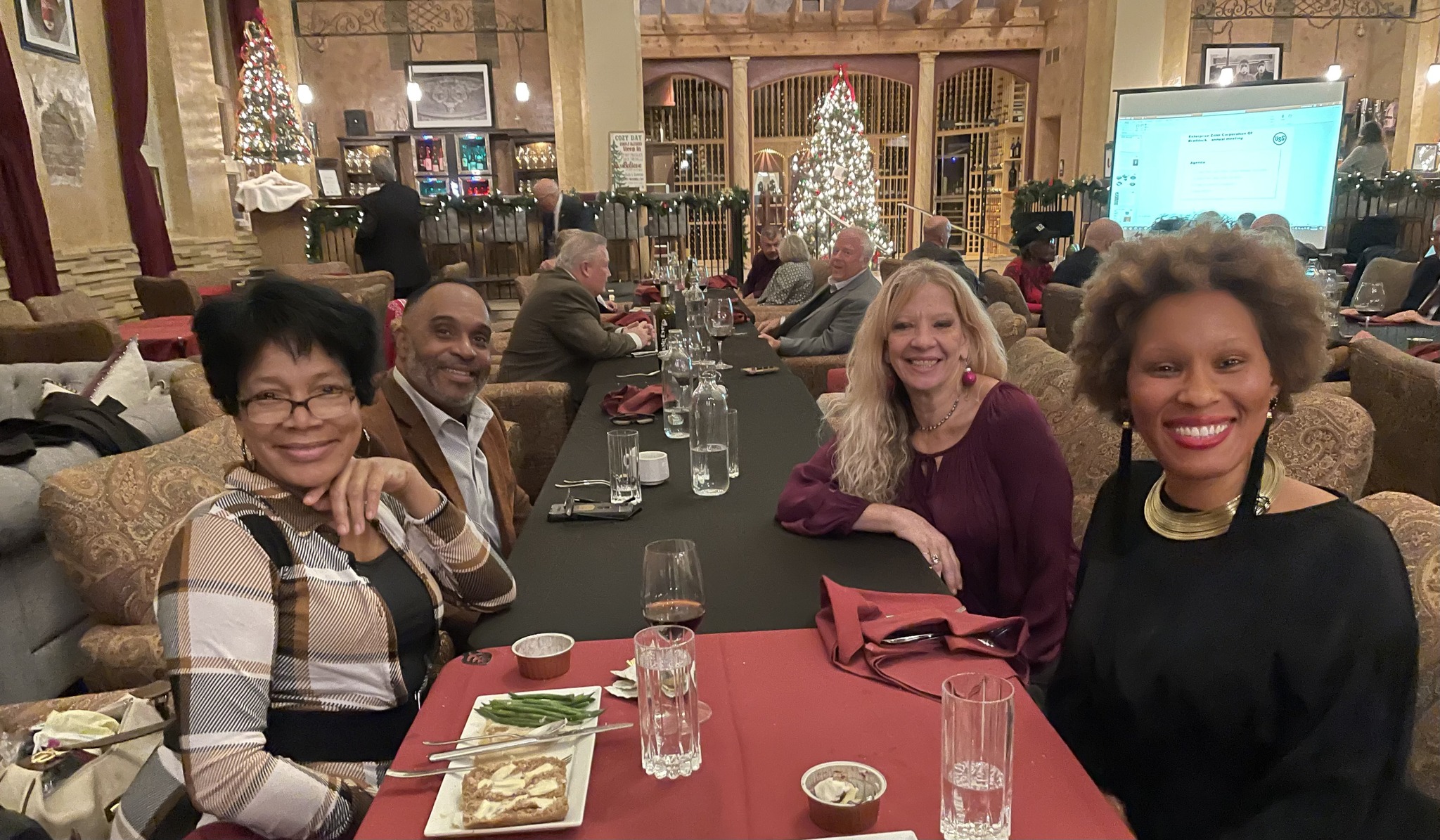 the Braddock Carnegie Library. Part of Mr. Barshick's message was that there are good paying jobs available here for those willing to work hard. The Economic Impact in the Pittsburgh Region includes being the area's largest manufacturer, and Mon Valley works expenditures in 2018 was over $3B, there are 3,000 people employed directly and 10,500 support jobs and $4.6B in economic output throughout the region.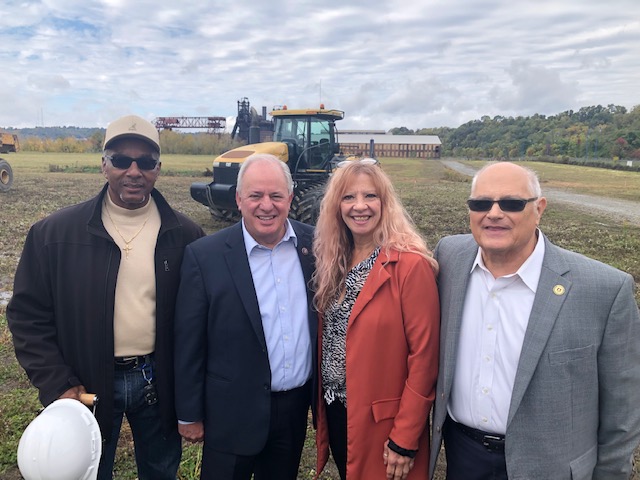 10/14/22 – Carrie Furnace Groundbreaking 
Federal, State and Local Officials along with interested parties were on hand for the RIDC groundbreaking at the historical Carrie Furnace in Rankin and Swissvale.
​​A star is born? Carrie Furnaces site eyed as campus for the region's film industry | Pittsburgh Post-Gazette
Attending at the Carrie Furnace Groundbreaking:  (from left) Rankin Council President Lucky Price, Swissvale native and United States Representative Mike Doyle, Swissvale Mayor and EZCB Secretary Deneen Swartzwelder and Rankin Councilman and EZCB President Bill Pfoff.

2022 – EZCB worked with the Urban Land Institute to create a Strategic Plan for the EastShore area.  EastShore is an initiative of EZCB to promote the assets and opportunities and the many events and activities taking place in the communities of Braddock, North Braddock, Rankin and Swissvale – ULI Advisory Services Panel Strategic Planning Report for EZCBs.
ULI's Advisory Services Program has decades of providing assistance to cities, towns and organizations throughout the United States and the world.
This 3-day panel completed work the week of June 6, 2022, here in the EastShore area.  During that time the panel, directly and through its staff, studied the designated area; consulted with public and private officials, representatives of other relevant organizations, and other individuals familiar with the problems involved; and prepared its conclusions and recommendations. The report was presented to the EZCB in oral form at the close of the on-site assignment. 
On September 20, 2022, the EZCB announced the EastShore Plan.  Approximately 50 people heard former Pittsburgh Mayor Tom Murphy, a Senior Fellow with ULI, review the plan and discuss initiatives to improve the EastShore area.
Mr. Murphy encouraged the group to "dream big" to transform the area.  He cited the success of groups that have revitalized their communities.  He said he can see similar success taking place in the EastShore.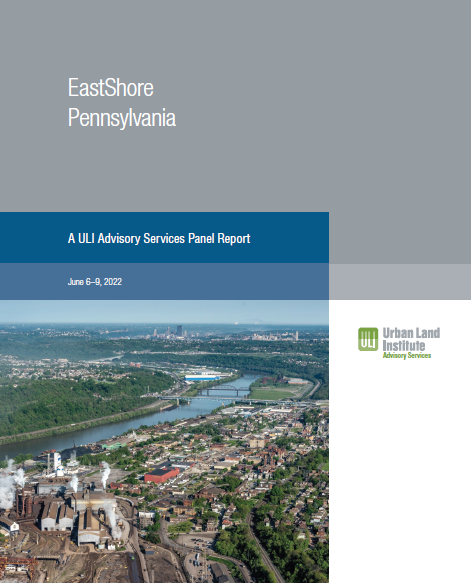 Check out our YouTube channel for videos of some of our great businesses and what our four communities have to offer.  EastShore Pgh – YouTube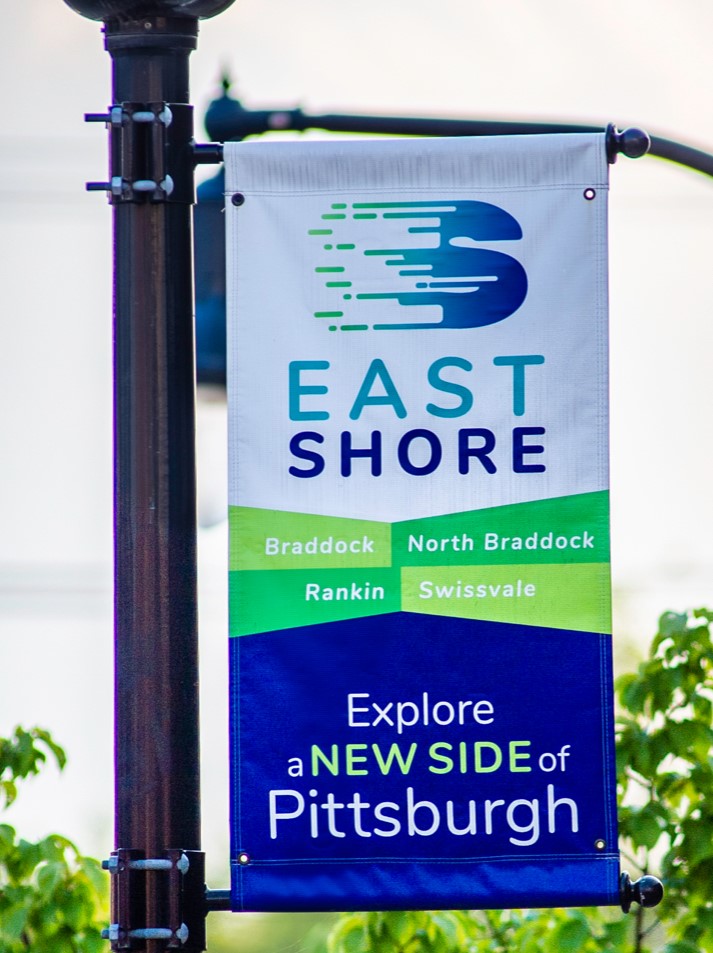 OUR BACKGROUND
The EastShore is an initiative spearheaded by the Enterprise Zone Corp. of Braddock (EZCB), along with its public and private partners. Over the past 30 years, the EZCB's activities in the communities it supports have resulted in over 100 development projects, $400 million dollars of private investment, and nearly 500 new jobs.

OUR GOALS
Reintroduce the neighborhood to the Pittsburgh region through an extensive marketing and outreach effort…

THIS WILL INCLUDE
A website showcasing EastShore businesses, restaurants, real-estate and other attractions
Neighborhood signage with our logo
Deepening our connections with local municipalities and small business owners in order to build on the community's economic momentum
Building on the area's existing events and attractions

WE ENCOURAGE
Small businesses to relocate and expand within the EastShore
Individuals to move to our communities and put down roots
Visits to our historic sites
Growth in our retail corridors, through marketing them as a regional destination
Large-scale revitalization along both the riverfront and in the heart of the community