One of the central tensions in the field of architecture is between the desire to preserve buildings as they are and the need to build efficient, well-functioning structures. While we often want to preserve as many historic buildings as possible, the same features that make a building historic might also impinge upon modern usage. As I learned from speaking with Lisa Whitney, the managing principle of Eos Studio Arc in Swissvale, finding a balance between the two poles is key.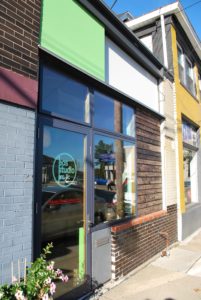 Sitting at a large drafting table in her sunny studio, Whitney outlines a few of the obstacles facing anyone embarking on a full-scale historic renovation. "Say you have a historic building," she explains, "and you want to return it to the way it was originally. First, you're going to need to do tests on the structure and various materials to determine if everything is sound. Then if those go well, you're going to have to track down matching materials, which in some cases are no longer manufactured." Faced with these challenges and the huge capital investments historic authenticity entails, owners often choose to walk away from the project or start entirely from scratch.
What draws Whitney to historical renovation is the opportunity to explore buildings and discover and document their quirks. For example she tells me that after completing her masters degree at Rensselaer Polytechnic Institute in Troy, New York, she joined a firm in Albany that specialized in historic preservation. While there she helped to restore the Great Camps in the Adirondacks. The Great Camps are huge cottages built by wealthy New Yorkers at the end of the 19th century and renowned for their luxury and craftsmanship. At Camp Sagamore, once owned by the Vanderbilts, her firm had to determine how to replace the bark cladding on the guest buildings. "The problem," she says, "was sourcing trees with the right diameter. The cottages were built before most of New York state's old growth forests were cut down, so we had to wait and repair the cladding in sections as bark became available."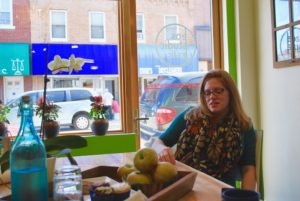 Currently, she is working with a client in Ambridge who is restoring a home built by members of the Harmonist Society. As Whitney points out, unlike the Vanderbilts, the Harmonists were very thrifty. "When the Harmonists needed extra materials to expand their homes," she says, "they would take wood from existing structures." The result is that many of their homes were constructed of a hodgepodge of planks of different ages and species. This makes it difficult to find historically accurate replacements for damaged planks.
In addition to historic renovation, Whitney's firm also designs for residential and commercial projects. Some of her recent work includes the renovation of the children and teen sections at the Braddock Carnegie Library and the design of the new Swissvale fire station.
In fact, Whitney just completed her own major renovation project. She and her husband, who is also an architect, spent over a year gutting and renovating the building that houses her studio. While they were able to purchase the building for $55,000, they ended up putting in an additional $75,000 dollars worth of work. "The wiring was so poorly done," she tells me, "that we were surprised the building hadn't caught fire. On top of that, neither the boilers nor the radiators worked. We wondered how they even heated the building."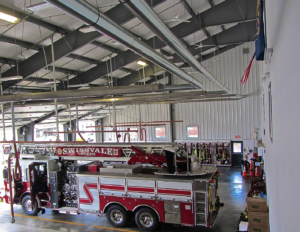 Despite the renovation headaches, Whitney loves her location in the heart of Swissvale's Noble Street business district. As a Swissvale resident for the last 14 years, she enjoys having her office located near her home in the borough. This arrangement allows her to fulfill her lifelong dream of being able to walk to work. "I love that when my daughter is dropped off from school, I can walk over to meet her and then come back to the office if I need to." Not having to commute has another upside. "Now that I don't drive everywhere," she says, " I'm meeting people working to improve the neighborhood."
One project she has become involved with is the effort to improve Swissvale's faded business district on Washington and Noble. "It frustrates me to hear naysayers talk about the business district. Yes, there needs to be improvement, but I'm not sure the people who complain understand how much work is being done and how complicated the process is." Slowly and steadily improvements are being made. After a yearlong fundraising effort and multiple committee meetings the Rotary club and the borough just installed new garbage cans along Noble Street. The next step is replacing the benches.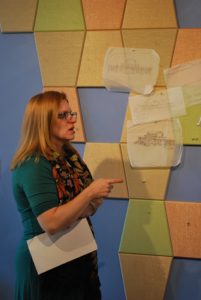 Like renovating a historic home, improving a business district takes patience and perseverance. Time and materials are often in short supply, and the improvements may come slowly, but through dedicated effort Whitney and her fellow residents are making Swissvale a great place to live and work.