From the moment Swissvale councilwoman Julie Grose saw the row of three dilapidated homes on Columbia Ave., she knew she had to buy them. "It was like a vision," she says. "I was living in Peters township at the time and had never even considered buying a home in Swissvale." Her friend Michelle began renovating a home in the neighborhood and she agreed to help.
"I remember looking out one of her windows at the homes across the street and thinking to myself, 'I'm going to live there, I'm going to own that.'" Whether by coincidence or fate, the longtime owner of one of the houses had just passed away and his son asked Michelle if her friend whom he had seen helping her build a fence might like it. Within a month Grose had completed the sale and began envisioning the renovations.
Squaring her vision with reality was another journey altogether. The previous owner had been in his nineties when he passed away and had not maintained the house. In fact, the house looked as if it hadn't been renovated for at least 40 years. Ultimately, it took nine months before she could move in.
On the bright side, starting from scratch allowed Grose and her architect to make bold interior renovations. "Originally," she points out, "the house ended at the window above the sink. You walked in and walked right back out." During the renovation, interior walls were demolished, ceilings were raised and what was once a cramped warren of tiny rooms became a contemporary open floor plan. The original two small bedrooms on the second floor became a master suite with a full-length walk in closet and spa bathroom. The unusable attic space was transformed by lifting the roof and adding skylights and voila – a second master suite.
Is anything original? She pauses and reflects for a second before responding, "Well, the hardwood floors, but even those had to be refinished."
After the first house became habitable, she turned her attention to the other two homes in the row. The one immediately next to hers had been abandoned for years and was unsalvageable, so she paid for it to be demolished. An investor owned the third, but this too was in sorry shape, and after a year of trying to do something with it, he threw in the towel and sold out. This house came down as well and Grose chose to combine the two lots and transform the space into a garden.
Reached from the street by a Japanese Torii style gate, the garden is meant to be a place for rest, relaxation, and meditation. In one corner, a linen awning provides shade for a hammock and a koi pond. From here, a path leads to a deck with a grill and lounge area overlooking a large green lawn, perfect for her puppies Otis and Mia to run around in and, hopefully, burn off some steam. The garden is full of art.
Small statues are interspersed among the plantings and on one stretch of fence Grose has painted a mural of a Buddha resting in meditative contemplation. One special corner is set aside for a memorial to her recently deceased dogs, Lewis and Mia.
For Grose the house and gardens reflect the work she has done in the community, first as a participating resident on Swissvale's business development committee and then as a Swissvale council member. Since winning her seat on Swissvale's municipal council in 2013, her focus has been on initiatives designed to bring the community together, foster sustainability and resilience, and build connections with the borough's neighbors. Some of the many programs and projects she has championed include: bringing single stream recycling to the community, shepherding a streetscape improvement program, and helping to found the highly successful Swissvale farmers market.
What fuels her ambition and passion for the community? "Easy," says Grose, "it's Swissvale. Swissvale reminds me of the neighborhood I grew up in. It's a place where everyone looks out for each other and neighbors still ask each other for a cup of sugar."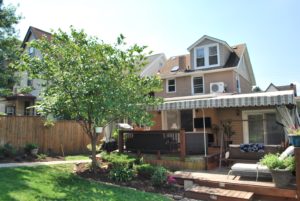 What's next for Grose? In addition to another four-year term on council beginning in 2018, Grose has been deeply involved with the Enterprise Zone Corp. of Braddock (EZCB) and its EastShore initiative. "We've been working on a plan to raise this area's visibility since 2015," she explains, "and what started with just a few people has expanded to include stakeholders throughout the area. It's amazing to see everyone pulling together to make these communities better places to live!"